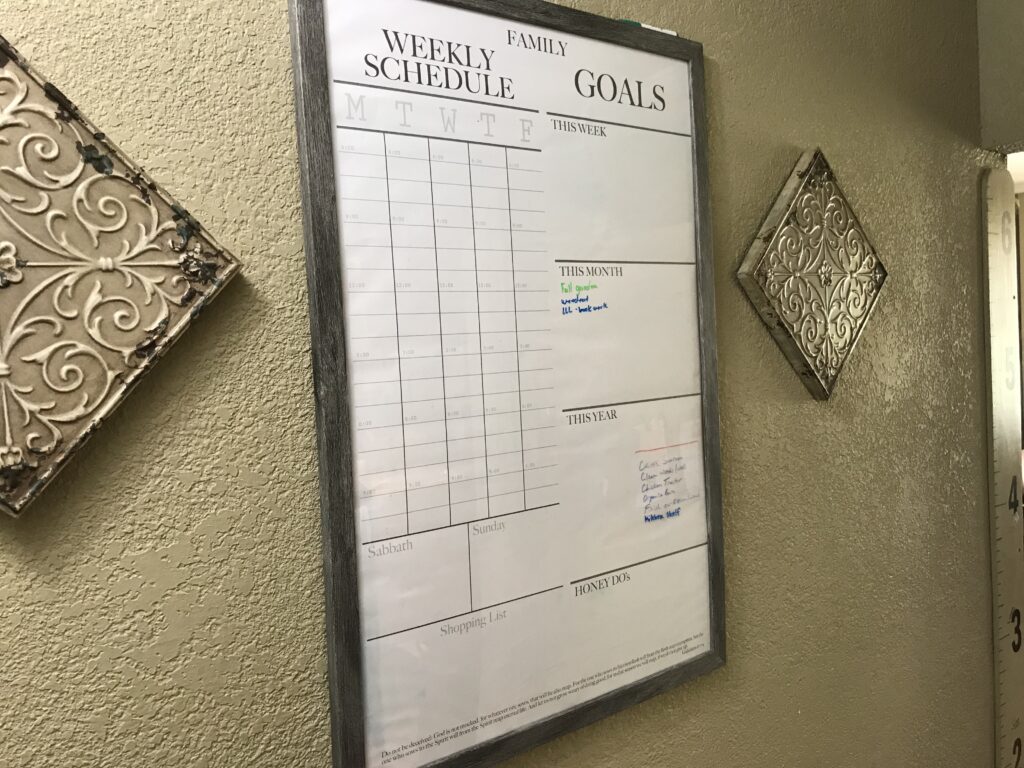 My wife and I aren't the best planners or goal setters. But what isn't measured isn't improved. So we put into plan tools that will help us with planning and scheduling and keeping aware of what's going on.
One of the ways we do this is with a giant 24″ by 36″ poster stuck in a frame and then hung in the hallway of the bedroom by the kitchen. It really works well for us. There are multiple sections to this.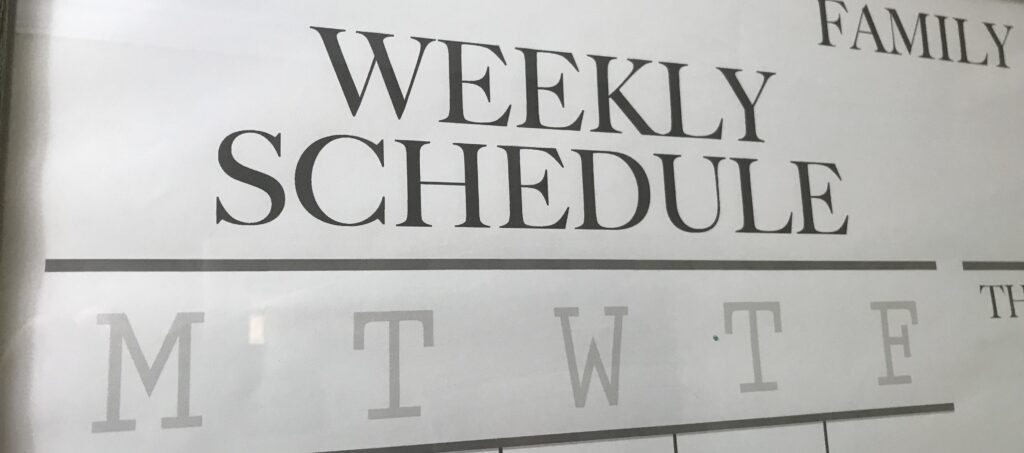 Weekly Schedule
Weekly Schedule covers Monday – Friday at the top with time blocks so you can easily set an overall routine for the week. We can toss appointments are special times in this routine and make sure the family stays on track. If my husband gets home and I'm gone he can look at the schedule and see what I'm doing.
At the bottom of this section is two blocks for the weekends. We generally don't have a routine on the weekends, but that's where we get to spend family time and participate in larger events so these blocks still give us plenty of room.

Shopping List
At the very bottom of the schedule we have a shopping list section. This is an area where if something is used it can be easily added to the list. We keep this whole planner in the hallway by the kitchen so it's easy for everyone. Additionally, if I'm on my way out the door to go shopping I can just take a quick picture and I'm off.

Goals
On the right hand side we have a Goals section. It's broken down by This Week, This Month, and This Year. It's always good to start with your Yearly goals and work backwards to just the weekly tasks that need to be completed to work on those goals.
Honey Do's
This last section speaks for itself. There may be many goals that pertain to the entire family, but who ever is running the household needs a quick place to just jot down notes for their honey. And really it could be used by both sides of the coin to just not forget important things. We all know that as soon as you walk through a door way, whatever was top of mind is now gone.
For Sale?
Sure why not? We keep sharing images of this with people and it never seemed that difficult to create. My Husband is a website developer so he's able to do this really easily. But when we share it everyone is like "TAKE MY MONEY", LOL.
We don't really have the means right now to create a product and resell this as a product and deal with shipping and everything. However, if you buy this we are currently sending 3 versions of this sheet in high quality PDF, set up for press quality printing. We also include an instruction sheet with where we got it printed and various options. Even some of the results from testing various pens for marking on it. (Hubby hates dry erase markers they fade easy and don't look the best)
We are going to sell all of this for $5. That's not much. We did all this work and packaged it up nicely. If someone has a great idea on how to improve it we might do so and include that in the package also. As we said you can easily build this yourself but if you'd like to support our little homestead and help us out, we'll send you these files.